School Ethos and Core Values
The minds of today shaping the potential of tomorrow
At Istead Rise we believe in promoting a clear set of values (independence, respect, perseverance and self-reflection) as children undertake a lifelong journey of discovery and new opportunities. We set aspirational targets and offer children an exciting and engaging curriculum. This enables them to develop essential life skills through challenging and thought provoking experiences that ultimately enable them to be successful. We believe in enriching individual achievements through outdoor learning, the exploration of nature and the local community. We strive to help and encourage our pupils to be tolerant individuals, who lead healthy lifestyles and make a positive, productive contribution to society.
The aim of the Istead Rise Primary School core values is to ensure all children understand what is expected of them, inside and outside of school and to give them a visual reminder of what they can do to make Istead Rise Primary School a happy, safe and positive place to learn. The core values underpin all of our expectations for pupils in learning, behaviour and becoming proud members of the community and the wider world.
The core values are for children to show:
INDEPENDENCE -
IN LEARNING, RESOURCING AND THE STEPS TO ACHIEVE

RESPECT -
FOR OTHERS, PROPERTY AND SELF

PERSEVERANCE -
THE BELIEF AND DETERMINATION TO SUCCEED

SELF-REFLECTION -
TO MOVE FORWARD AND IMPROVE IN ALL ASPECTS

Children need to be taught and to learn how to behave appropriately. They need to know that mistakes can be made and learned from. Our success is measured not by the absence of problems but by the way in which we deal with them.
Each class will display the core values in their classroom on a display like this: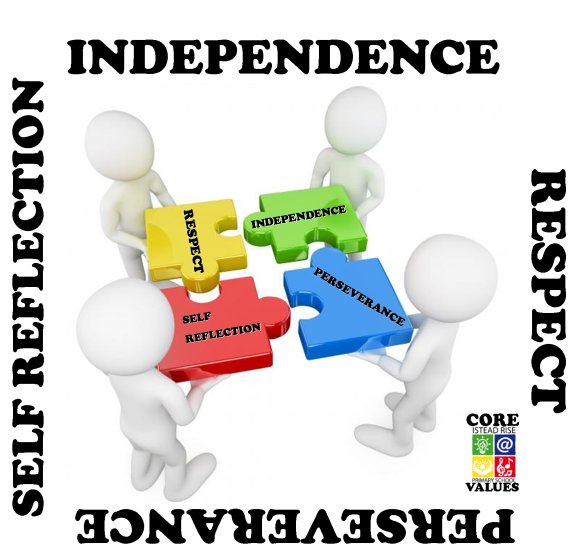 It is through following these Core Values that pupils will earn their 'peg up' on the behaviour ladder. Children are also awarded certificates linked to these values in our celebration assemblies, which will take place every Friday. Stickers with these words on will be awarded to children who are showing the Core Values – Independence, Respect, Perseverance and Self-Reflection.